ETSY Stock Analysis | Buy or Sell? ❤ Elon 'kinda loves' it
We've seen some crazy swings in the markets lately, and one of those that caught my eye was ETSY which jumped 16% post-earnings last week. Is this stock a buy or sell? Let's find out...
We've seen some crazy swings in the  markets lately, and one of those that caught my eye was ETSY which jumped 16% post-earnings last week. Is this stock a buy or sell? Let's find out...
Business Model
What exactly is Etsy? According to their website, "Etsy is the global marketplace for unique and creative goods."
We help our community of sellers turn their ideas into successful businesses. Our platform connects them with millions of buyers looking for an alternative - something special with a human touch, for those moments in life that deserve imagination.
It's a marketplace very similar to eBay, though much smaller and arguably more niche. And, obviously, eBay also has used items for sale as well – which is a bit more comparable to Kijiji. But, of course, eBay is a giant global marketplace in its own category.
It's worthy to note that Etsy – the company, or stock – is actually consolidating four marketplaces: Etsy, Reverb, Depop, and Elo7. They are all target non-commoditized inventories (like arts and crafts, vintage items, etc.) and generate commissions on the third-party P2P sales.
Moat
Etsy, and all of its subsidiaries, have wide moat because of the uniqueness of the inventories and marketplace products. They aren't commoditized, and thus not available everywhere. There is truly a special place and need for Etsy. Until now, there is no significant competitor I could identify.
They've identified that they need to get more men on the platform, as most users appear to be female – which kind of makes sense. But, Elon Musk, according to his tweet last year, "kinda loves it". He was most likely referring to the stock, which jumped after his tweet (lol). Anyways...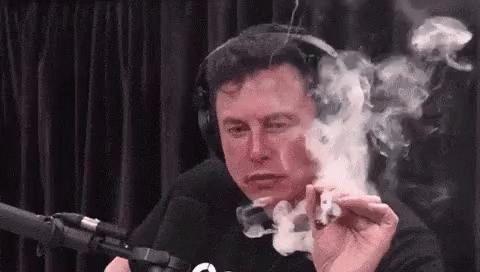 Key Metrics
Aside from what Elon thinks, Etsy has been posting some great metrics over the past two years that I think are worth calling out. Despite it being a clear pandemic darling, there seems to be some steam in this growth.
exceeded ecommerce market growth
not only grew to 90M active buyers, but also retained the ones that came on during the COVID boom... but, admittedly, it's hard to conclude that just yet
developed better algorithms (AI) for recommended products and ads (i.e. XWalk)
successful marketing strategy to boost direct response and branding
Valuation & Forecast
As a reminder, all valuation sheets are available to premium members of The Hawk Letter and Discord. I highly recommend you join, to make your own assumptions and investment thesis :)
Now, to our favorite part, the valuation and forecast for Etsy.
The key performance indicator (KPI) for Etsy and its marketplaces is Gross Merchandise Sales (GMS) – the volume of transactions on the platform. It's not worth  breaking this down by marketplace, since Etsy represents 90% of the total.
GMS increased 100% in 2020, and 31% in 2021. The last quarter grew at 7% YoY, but 154% 2YoY. They have some tough comps ahead. Q1'21 had 132% YoY growth, which likely was over the backs of an immediate slowdown from COVID-19 being introduced in our lives 🤮. But, they've maintained double-digit growth beyond that.
The bigger question, as usual, is what are they expecting to do in 2022 and going forward? They guided for ~$3.3B in GMS and $578M of revenues for the first quarter of '22 – which represents about 5% growth YoY.
They also mentioned increasing their take rate by 30% (i.e. from 5% to 6.5%). Note: my valuation sheet includes advertising and other fees, which represents total revenues as a percentage of GMS. Reflecting that increase and assuming a CAGR of 6% for GMS and 11% for revenues until 2024, and maintaining a really impressive net income margin of 20% we get about $5.32 EPS in 2021 (vs analyst est. of $5.89).
DCF & Price Target
Etsy is a positive cash flowing company with impressive margins. Hence why I get a fair value per share, based on my DCF, of ~$130/share – which is 15% below what it's currently trading for.
I particularly don't like how leveraged they are... and quite frankly don't understand why they took on the recent debt. They recently raised some debt, with a portion of which was for buybacks... but, still doesn't make sense to me.
Overall, I think the company is fairly valued... and I'm not sure there is too much upside here, based on my conservative growth rates. That's what it comes down to at the end of this, imo: future expected growth.
Risks
Increased expenditure in home furnishing and WFH during the pandemic could drag GMS growth down for longer than we think... biggest risk imo.
Local players have an advantage, as Etsy does in the US... which could limit international growth.
Larger sellers will always look to own their customers and platform, and also brand their products at some point, using a solution like Shopify.
Concluding Thoughts
After taking everything into consideration, including the valuation, my personal decision is to stay out of this investment. Although I think the company has a solid business model and moat, which generates positive cash flows, and a strong leadership team that is clearly doing the right things... I have a concern about their future growth, especially post-pandemic. I think analysts and investors have to be rally cautious investing in pandemic beneficiaries, and imo, the dust hasn't fully settled.
Investing in Etsy (or any other pandemic darling) requires investing in a lot of uncertainty on future growth rates. Unless there is clear technological tailwinds and strong moat, or something else... something that Etsy seems to be missing for me, my gut is to stay out until the picture is clearer – even if that means paying a higher price. But, that's me... a random guy on the internet. Always, do your own research!
---
Disclaimer:
All material presented in this newsletter is not to be regarded as investment advice, but for general informational purposes only. Day trading does involve risk, so caution must always be utilized. We cannot guarantee profits or freedom from loss. You assume the entire cost and risk of any trading you choose to undertake. You are solely responsible for making your own investment decisions. Owners of this newsletter, its representatives, its principals, its moderators, and its members, are NOT registered as securities broker-dealers or investment advisors either with the U.S. Securities and Exchange Commission or with any securities regulatory authority. We recommend consulting with a registered investment advisor, broker-dealer, and/or financial advisor. If you choose to invest with or without seeking advice from such an advisor or entity, then any consequences resulting from your investments are your sole responsibility. Reading and using this newsletter or using our content on the web/server, you are indicating your consent and agreement to our disclaimer.
---
The rest of this post is for premium subscribers only