Peloton Stock Analysis 🚲 Is it a good stock to buy?
I really struggled to even care about this name, even at it's peak during the pandemic, tbh. As a guy who's fairly active, I couldn't see the appeal from a fitness enthusiast perspective. I don't wanna be on a stationary bike locked inside my house... the whole point of physical activity, is to get out. But, that being said, I can understand the appeal during the pandemic... and I can also appreciate that I'm not speaking on behalf of the masses.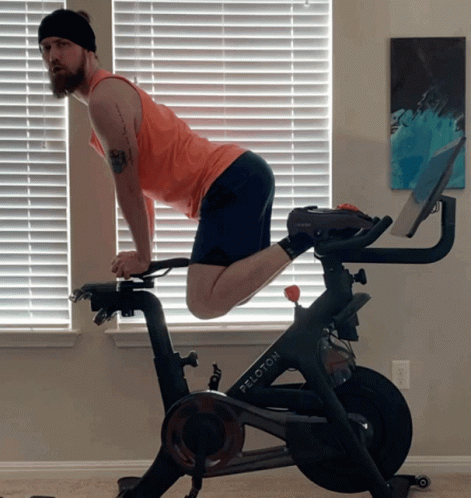 That being said, I can't help but notice the stock's near 90% fall over the course of an year. It's been called a "tech company" by many, so maybe there's something here... maybe not... let's find out!
Business Model
History
Peloton was founded by John Foley, among a few co-founders, in 2013 after raising $400k in seed money at a valuation of $1.6m. He desperately needed a lot more to execute on his idea. He successfully raised in Kickstarter, and was finally able to get VCs on board. The company had its IPO in late 2019, right before the pandemic, at a value of about $8bn.
He came up with the idea after seeing the success of boutique fitness studios like SoulCycle and Flywheel, in his hometown of NYC. The issue with these classes were that they'd fill up, and be limited to 20-30 people. Hence, the idea to scale these classes to the global indoor cycling market, which is about $650M, and expected to grow to nearly $1bn by 2028 (6% CAGR).
Peloton's goal, which stands today, is having 100m subscribers globally. Considering they have about 8m today, and there's roughly 200m gym-goers globally, I'd fade that 🧢.
He's done a great job, but clearly mismanaged the company and finances (including his own). He recently lost his mansion in the Hamptons after he was margin called from the stock dropping. He's an example of a founder, that shouldn't be a CEO (at least after a certain point). There's no shame in that.
He's been now replaced by Barry McCarthy, former-CFO of Spotify and Netflix. He's committing to save $800m+ annually, starting by:
reducing the Company's headcount
closing several assembly, manufacturing, and distribution facilities
shifting to third-party logistics providers in certain locations
exiting all owned-manufacturing operations and will have Rexon (leading Taiwanese manufacturer) to be the primary manufacturer of the hardware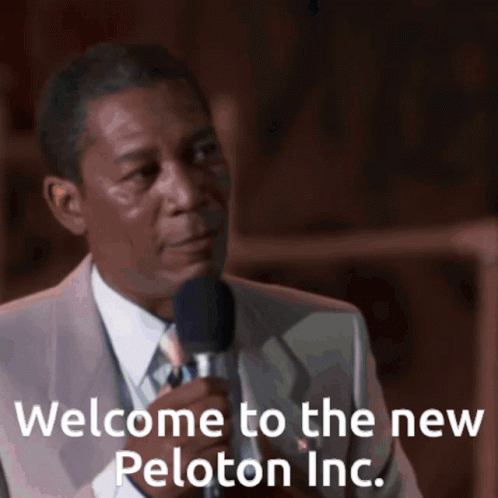 I don't know if Barry will be Peloton's knight in shining armor, but he's definitely incentivized with 8 million stock options at an exercise price of $38.77. 💰 Just enough to make (some) bag holders even.
Moat
Do they have one? ...or is it just an iPad on a bike? IMHO, they don't really have one... which will be a huge deterrent for me in investing. However, that doesn't mean this can't be a trading opportunity, or the stock is simply undervalued. A strong potential moat for Peloton, could be something like the "tribe" that it creates for its users... with CrossFit being the prime example of this.
Valuation & Forecast
Business Segments & KPIs
Peloton is divided into two business segment: Connected Fitness Products (i.e. hardware) & Subscriptions (i.e. software)
Connected Fitness Products includes stationary bikes, treadmills, and free weights; It also includes accessories, apparel, delivery and installation services, and extended warranty.
Subscriptions include fees to Peloton's online interactive fitness platform, which offers live and on-demand fitness classes and allows users to track various fitness metrics over time.
It's clear the subscription business is what investors should be keen about. But, we need hardware sales to grow, in order for subscriptions to grow. One of the most impressive metrics I found were the retention and engagement rates for subscriptions. Clearly, it's a good product that is being used and loved... you can't argue with the data.
Price Target
As a reminder, all valuation sheets are available to premium members of The Hawk Letter and Discord. I highly recommend you join, to make your own assumptions and investment thesis :)
Assuming subscribers have 12% CAGR until 2024, which represents a significant slowdown from the current 27% – and they can increase $/subscriber slightly (which they have been doing) – there is hope, imo!
The wild card, is the products revenue, which I don't know what kind of margins they will end up with after efficiencies and outsourcing manufacturing. I am assuming 20% gross margin by 2024.
If the above allows them 7% net income margin by 2024, at a 10x P/E would give them a stock price of $13 – which does represent an upside to today's prices.
I feel like the risk/reward is can be in your favor from here.
Risks
Undoubtedly, the biggest risk for Peloton is execution risk... can they actually pull this turnaround off? The company is in treading or biking downhill, and it's going fast (pun intended). With product revenues declining, and operating expenses increasing, they need to aggressively cut costs to survive – which is what they're doing (as I've mentioned above). They are looking to be cash flow positive again next year, which is crucial since they're sitting on less than $1bn in cash right now.
Concluding Thoughts
Peloton has accomplished a lot, and arguably created a new category in fitness. However, it's clearly struggling to stay on the path. Was it just a pandemic fad? It's possible. As I mentioned, as someone who's a fitness enthusiast, it's not for me. But, I can see it for the masses.
This turnaround will be tough.
But, if the team can pull it off, it can provide really outsized shareholder returns... hence, I can see the reason why someone would make that bet. Or, simply hold and hope for an acquisition.
It appears that they are doing the right things to grow product sales, which is what they need to do, in order to grow subscriptions. They recently announced partnership with Amazon, which should help.
There are a lot of innovations and addons that can help increase revenue per subscriber as well, imo.
A small bet makes sense to me.
Even if they don't churn a profit in the near future, you can just benchmark them to other SaaS companies which have ballooned in valuations off MRR/ARR metrics. Peloton is currently trading at a price to sales of below 1. If you look at it from that lens, it's insanely cheap.
Hence a bet, a small one, can make sense, imo.
It's not sexy enough for me to really get excited about bikes... so, it wouldn't be a high conviction play.
---
Disclaimer:
All material presented in this newsletter is not to be regarded as investment advice, but for general informational purposes only. Day trading does involve risk, so caution must always be utilized. We cannot guarantee profits or freedom from loss. You assume the entire cost and risk of any trading you choose to undertake. You are solely responsible for making your own investment decisions. Owners of this newsletter, its representatives, its principals, its moderators, and its members, are NOT registered as securities broker-dealers or investment advisors either with the U.S. Securities and Exchange Commission or with any securities regulatory authority. We recommend consulting with a registered investment advisor, broker-dealer, and/or financial advisor. If you choose to invest with or without seeking advice from such an advisor or entity, then any consequences resulting from your investments are your sole responsibility. Reading and using this newsletter or using our content on the web/server, you are indicating your consent and agreement to our disclaimer.
The rest of this post is for premium subscribers only